The project is located in one of the valleys in the Huang Mountain in Anhui Province. The valley is one of the mountain narrow passes and gathering points of the water flowing down from the mountain. The valley was inhabited by a small village that was connected to the outside of the valley through an approximately 2 meters wide narrow mountain road. Considering the flood risk and inconvenience of transportation, the entire village was relocated to elsewhere outside of the valley. The village was abandoned.
In order to revitalize the abandoned village, to manage the water is the first and essential step. In the village there are a number of man-made canals that were for irrigation and flood control. Located at the perimeter and the center of the village, the flood control canals are deeper than 2 meters. It is one of the indicators of the severity of the flood risk.
项目地处黄山的一个沟谷里。一个处在汇水的垭口的废弃小村庄,只有一条不到两米的山路通往外界。考虑洪患威胁及交通不便,村庄在大约十年前被整体迁出谷外。
如果重新启用这个废弃的小村庄,"理水"是至关重要的第一步。在沟谷里漫行,会发现很多人工修建的灌溉水渠、排洪渠。在村子的边界和中央,原住民修建的排洪渠深达一人多高至2米,可见排洪需求的迫切与必要。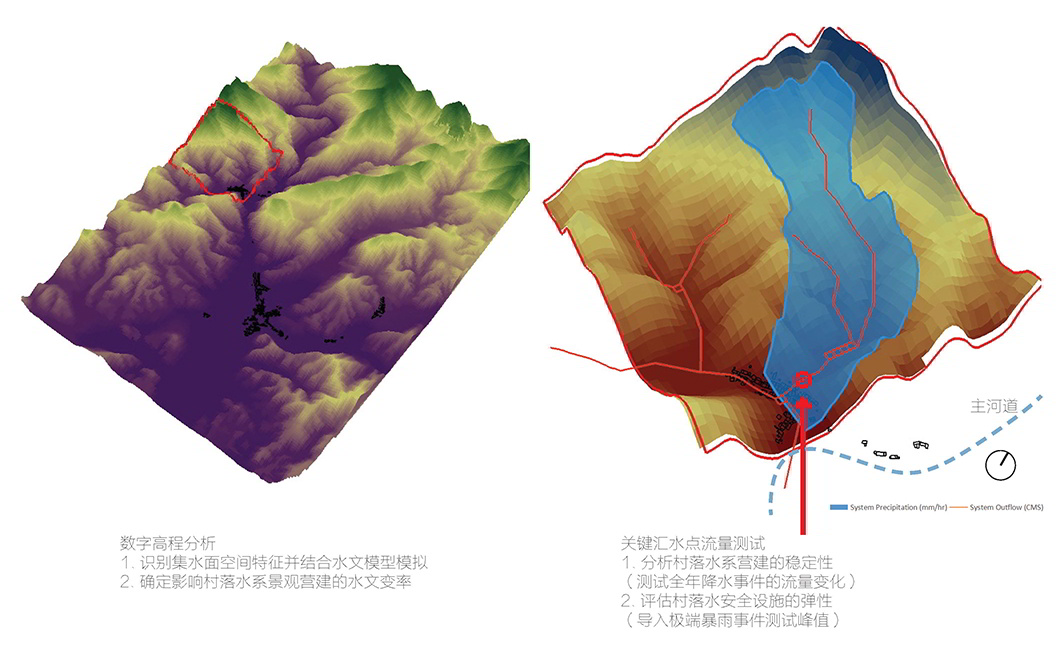 Based on the 2018 statistic of perception of the region, August is the month when most of storm and flood occurred. According to the on-site observation, during the non-rainy seasons, the water level in the canals is very low. However, considering the trend of occurrence of extreme weather, it would be more reasonable not only to follow the official guideline of a flood risk management that categorizes the severity of flood simply as once a decade or one a hundred years, etc, but also to come up azflood risk management strategy that fully considers the experiences and wisdom of the original residents of the villages and is more dynamic and scientific.
以2018年当地降水量为计算基础,我们发现一年中暴雨发生的季节集中在八月。根据现场踏勘以及驻场人员的观察,大部分非雨季的排洪渠里,只有底部浅浅的流水。但是由于现在的极端气候,我们很难以规范上的几十年一遇或者百年一遇的洪水指标为依据;只有在保留原住民的经验和智慧的基础上,让山洪的引流更加科学、让地处洪泛区的居住地更安全。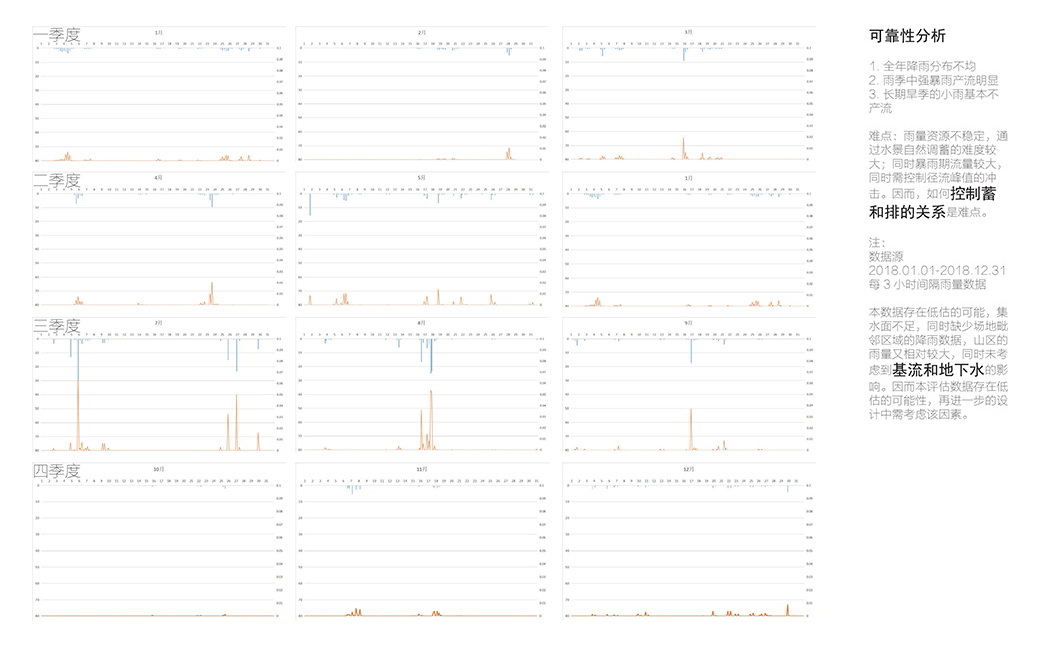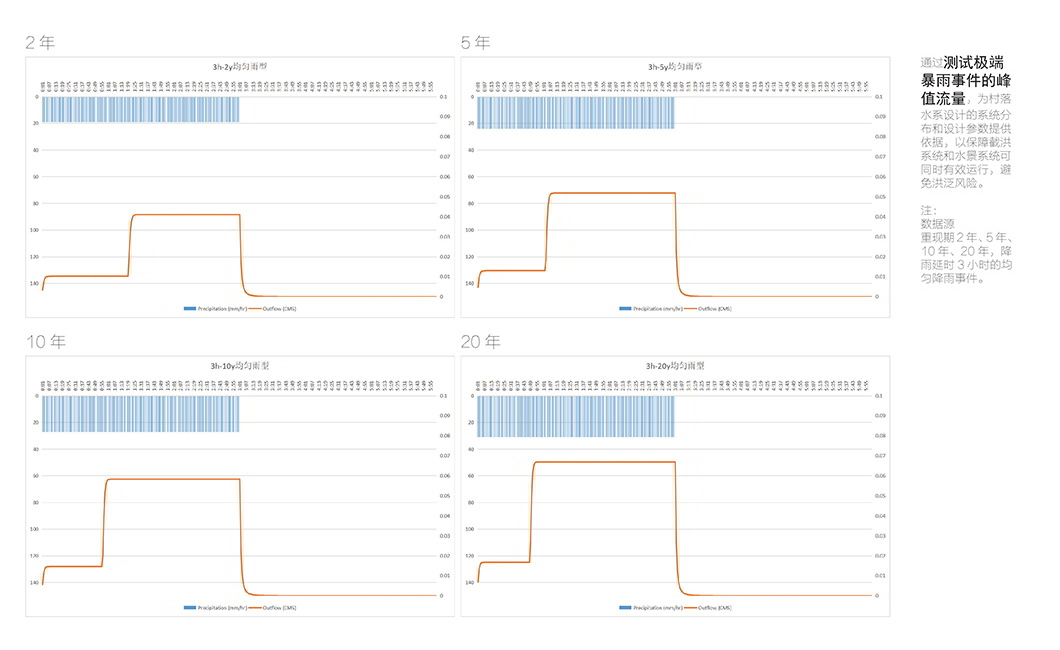 When the water from upstream flow through the narrow mountain pass where the village is located to the downstream, in the unmanaged condition, the water will expand to several streams and create a fan shaped tidal flat. If the only focus is to limit the size of the basin range, naturally in order to contain the volume of the water, the depth of the canals has to increase, which is the current situation. Our strategy, however, is to take advantage of the currently available wildland to divert the flood water. We created overflow outlets in the current canals to lead the exceeded water to the wildland to form the tidal flat called"one pond three mountains". The focus of our strategy is not only to manage the flood, but also more importantly to create a healthy, dynamic, and responsive hydrology environment.
当一条河流冲出山谷汇入下游的时候,垭口处,也就是现在小村庄的位置,如果是自然的状态,水流会散开形成扇状滩涂及很多小的支流,如果限制其流域范围,就需要越来越深的水渠(像现状这样)保证容纳汇集的越来越多的洪水总量。我们在现状水渠开出一个溢水口,利用现状的荒地,形成一个扇状的"一池三山"滩涂地,用自然的形态为洪水分流,辅助泄洪的同时,为村庄未来投入新的使用时形成一个科学合理、安全健康的水文环境。