Fengxiang Zhou is located on the Jiangxing Island in Qujiang River. It is officially a tidal flat and administrated as waters. The vegetation on the island has been modified a few times by the residents. For example, the island was utilized as pasture for cattle and sheep ranching; palm trees and sweet Osmanthus groves were planted as part of tourism development; a large number of pampas grass and reed bamboo were planted for the purpose of flood control. Along the river bank, the Chinese wingnut and chinaberry have appeared like forest, yet it is hard to say that those trees were purposely planted. These species all are suitable for the wet environment and earthy. The vegetation at the west end of the island has appeared healthy, divers and self-sustainable. However, the condition at the center part of the island appeared very differently. The impact from years of heavy human intervene, such as over logging and continuous monoculture and monocropping, is very much evident. The land is currently occupied by a few invasive species like cocklebur.
位于衢江江心岛的凤翔洲,在国土规划的用地规范中叫"滩涂",在水务局的管辖里属于"水域"。岛上现状的植被在不同的时期被周边居民改变过。比如放羊牧牛的草场,被开发农家乐或者乡村旅游时种的芭蕉棕榈或者桂花苗圃;而水岸边大丛的蒲苇、芦竹是防汛部门种来加固驳岸的。水边成片、大型的枫杨林,或者逐渐在林地边际演替的苦楝不确定是不是人工所为,但是属于当地喜水的乡土树种。岛的西头逐渐呈现自然植被健康的自我演替趋势,出现了物种多样化;而中间部分,因为曾经被人工重度介入过(比如砍伐或者人工种植单一品种),现在被苍耳等极具侵略性物种占据。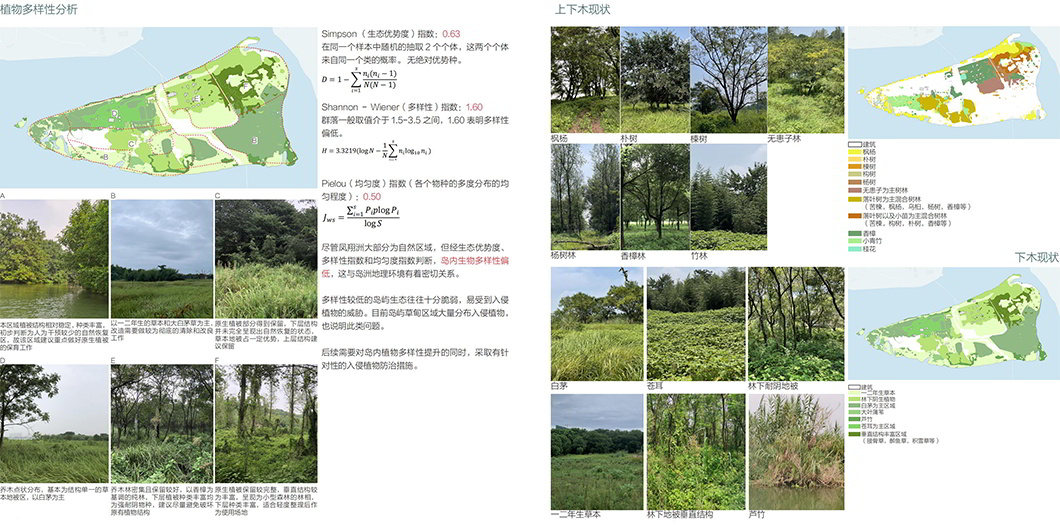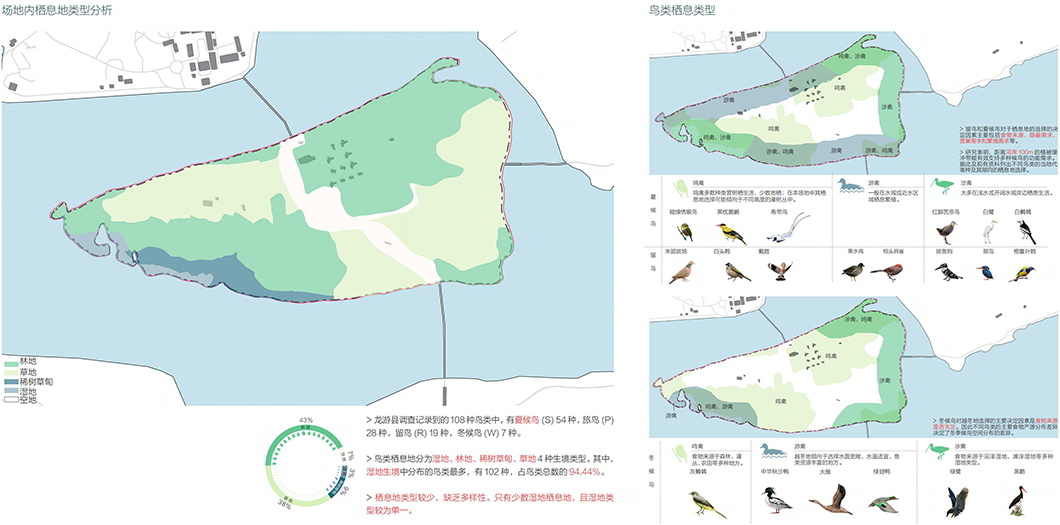 In the history, the Jiangxin Island was submerged in 1955. Having kept been washed down by the river tides, the size of the west end of the island has been shrunken. Yet, the water level has been stabilized since the dams were constructed upstream in 2019 and downstream in 2011 respectively.
历史上,江心岛于1955年被淹没过,岛西端"滩头"因为江水的冲刷不断缩小。自2006年、2011年岛的上下游分别修建了水坝,水位趋于稳定。

At the beginning for the project to revitalize the island which covers an area of 40 hectares, we invited the experts from the Shanghai Shangfang Botany Research Institute for onsite visits to survey and evaluate the condition of soil and vegetation. The experts also advised the possibility of recovery, locality of the plants and low maintenance strategy.
在重新启用这个面积约40公顷的江心岛时,我们邀请了上海上房植物研究所的专家现场踏勘、评估了现状的自然植被状况,为将来的植被恢复、物种的地方性、低维护等方向做了具体的物种选择和设计。