The condition of the rock at the quarry mine is mostly unconsolidated, which make the particular rock is mostly suitable for the subgrade of the road and crushed stone. Because of the same reason, the experts have recommended not to use engineering methods such as cement piles to stabilize and restore the vegetation after the mining has ended. In fact, the strategy to restore the damaged mountain body and vegetation by planting non-diverse plant species has been proved ineffective, unsustainable and costly. Our strategy is self-healing, which to leave the space and time for damaged mountain body and vegetation to restore naturally and gradually. In order to do so, we designed a system to keep the stabilization of the hills to the basic and create the distance between the nature and the human activity.
由于矿山的石质疏松,该矿场的石块主要用来做路基等碎石渣用途。同样的原因,在矿场被停止采矿以后,面对疏松的地质条件,专家并不建议使用工程性(如水泥桩)的安全防护或者复绿。事实上,对于矿山的复绿工程,需要在山体破损表面人工植入相对单一的植被品种,代价很大,收效甚微,是极不可持续、不生态的手段。我们的策略是在基本的安全防护措施下,保持人与山体的合理距离,期待植被的自我恢复。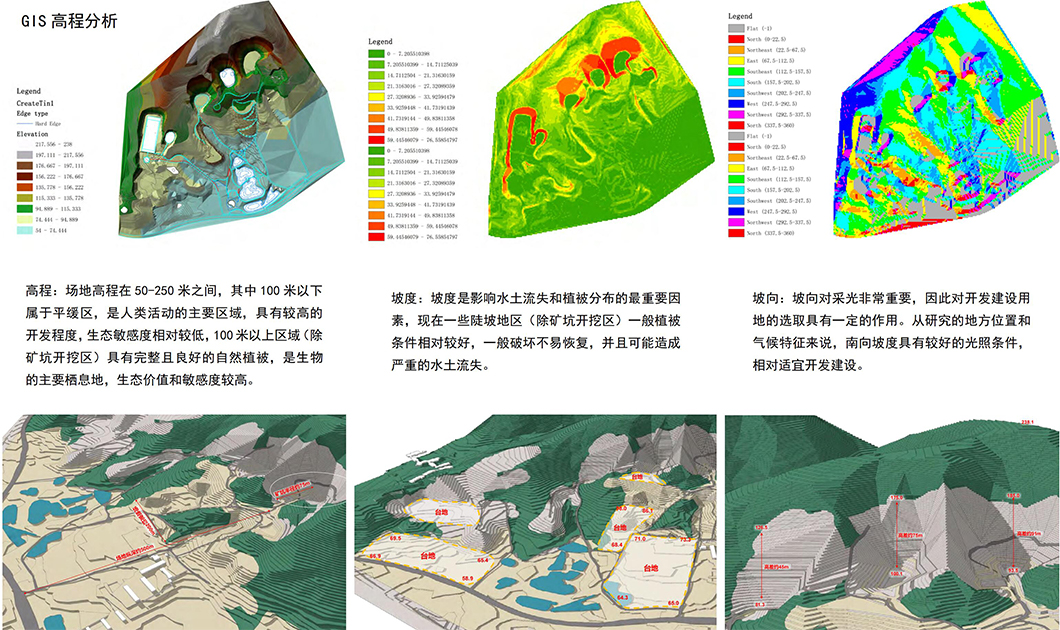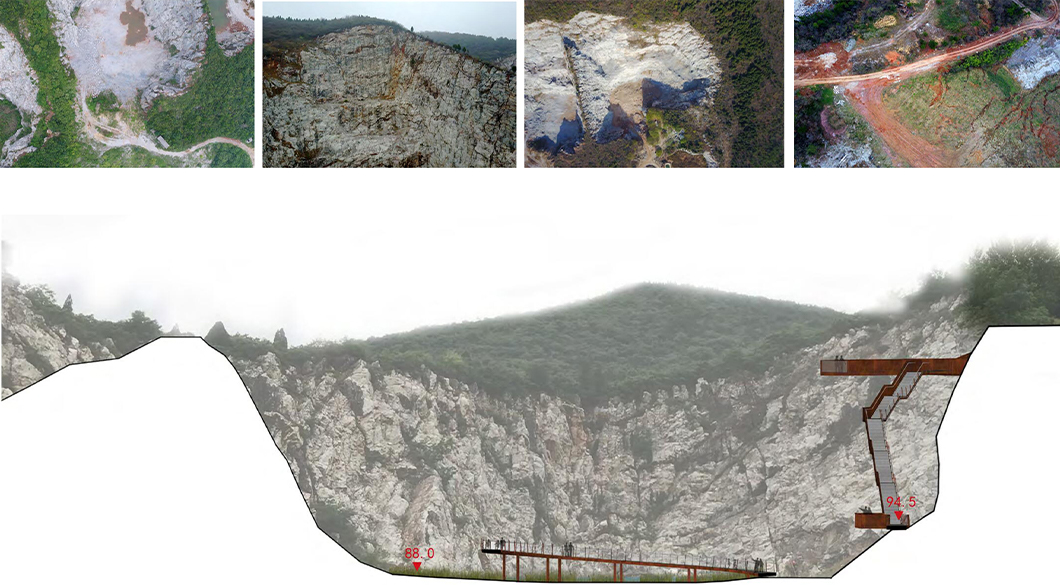 At the lower part of hill, the col creates a terrain to gather the run-off water. The abundant water is preferred condition to grow pasture. At the foot of the hill, we designed a pond to consolidate the water. The pond is functioned an organic water treatment plant before the run-off water from the mine back to the large ecosystem. At the same time, the pond is the beginning of the park to the visitors.
矿山的下半段,在山坳处因汇水形成了植被丰茂地带,分水岭人工种植为草甸。山底现状的水塘被继续利用成为整个生态系统的最终的沉淀、净化水塘,同时成为人们进该入区域的一个开始。