The entire 73100-square-meter park was constructed on the rooftop of a subway hub in Hangzhou, Zhejia Province. It is not an overstatement to call the project the modern Babylon. The rooftop of the subway hub that provides extraordinary infrastructure such as structural strength and waterproofing made it possible to create a meaningful artificial ecosystem. The design could include sizeable topsoil and water system. Nevertheless, the challenges of the design are the irregular elevation changes that vary from 1 meter to 1.5 meters, as well as the large numbers of subway vents that are intrusive and arranged poorly, 1.8 meters above the rooftop.
这个面积73100㎡的公园完全建在地铁上盖,称它是现代的"空中巴比伦"亦不为过。虽然是全人工的生态系统,但是因为地铁上盖的结构、防水等基础功能强大,在覆土、荷载方面没有很苛刻限制。对设计挑战的地方是上盖原始结构的不规则退台,形成一级一级的1米到1.5米的不同高差,还有下面地铁的通风井,密集之处有二十几个,高出平面1.8米。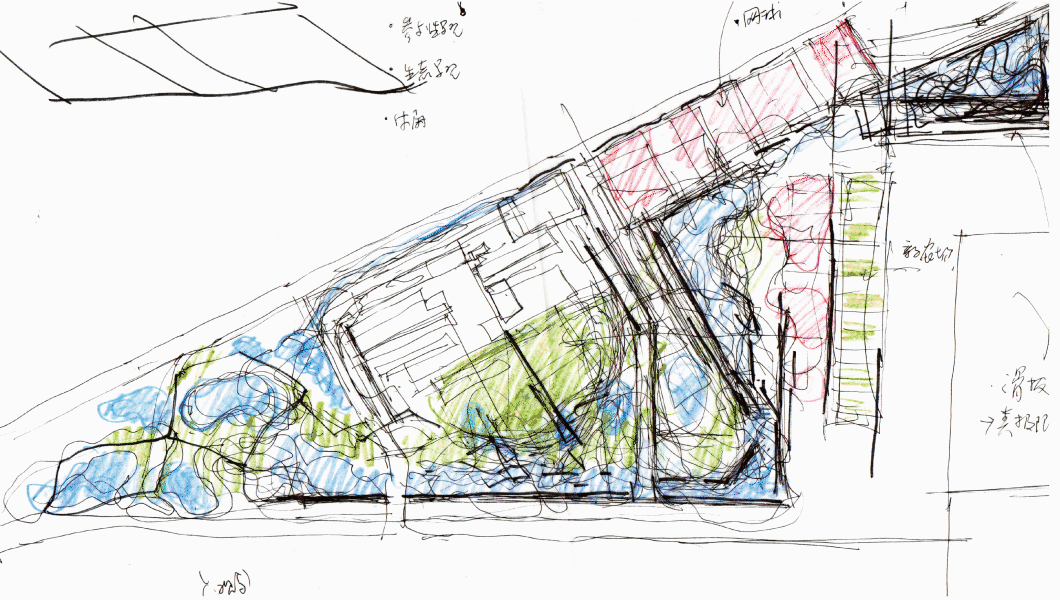 In this completely artificial ecosystem, one of our main considerations are its coexistence and interactivity with the residents. We designed a series of circumstances such as the fields where the residents could plant their own vegetables; sports fields; platforms built upon the various given elevations of the rooftop; the resting sites on the vents for the migrating birds; as well as a sustainable water system. Although this elevated ecosystem has little physical relationship to the ground, it is more like a gigantic rooftop garden that creates harmonious, interactive and inter-reliant environment with the residents.
在这个纯粹的人工制造的生态体系里,我们考虑的是周围社区居民与它共同生活的场景:居民自耕的菜地,运动的场所,利用台地高差形成的至高眺望点,通风井可否成为候鸟路过的休息地,生态水系的自净功能等等。虽然这个"被架起来的"生态系统与地面毫无联系,与地下水的补充无益,它的意义更像是一个巨大的屋顶花园,与居住在周边使用它的人互益,形成一个共同成长、生存的环境。